Reilly Chiropractic
1245 W. 5th Avenue, Columbus, OH 43212
Call us today: (614)488-8182
Columbus Office Hours:
| | |
| --- | --- |
| MONDAY: | 8AM-6:30PM |
| TUESDAY: | 1PM- 6PM |
| WEDNESDAY: | 8AM-6:15PM |
| THURSDAY: | 2PM-6:15PM |
| FRIDAY: | 8AM-12PM |
| SATURDAY: | BY APPOINTMENT |
1245 W. 5th Avenue, Columbus, OH 43212
Columbus Office Hours:
| | |
| --- | --- |
| MONDAY: | 8AM-6:30PM |
| TUESDAY: | 1PM-6PM |
| WEDNESDAY: | 8AM-6:15PM |
| THURSDAY: | 2PM-6:15PM |
| FRIDAY: | 8AM-12PM |
| SATURDAY: | BY APPOINTMENT |
Our mission at Reilly Chiropractic is to serve our community by helping God's people find health and hope. We are committed to treating our patients with a holistic, natural approach that aims to heal the body from within. At Reilly Chiropractic, we educate and adjust our patients to improve/enhance their quality of life and strive to make a big impact through small changes. We are also partnered with Standard Process Supplements and Shape Reclaimed Weight Loss.
We are dry needling certified and Certified Chiropractic Sports Physicians and Titleist Performance Institute providers.
At Reilly Chiropractic, we value the education of our patients and strive to inspire small changes that make a big impact.
Preventative healthcare through nutrition
We value our patients' dedication to a healthier lifestyle.
SERVICES OFFERED:  SAFE & GENTLE CHIROPRACTIC CARE, ELECTRICAL MUSCLE STIMULATION THERAPY, SPINAL ALIGNMENT, DRY NEEDLING, PERSONAL INJURY (including auto accidents), WORKERS COMPENSATION CERTIFICATION, REHABILITATION, PHYSICAL THERAPY, TRACTION, EXERCISE REHABILITATION, SAME DAY APPOINTMENTS ARE AVAILABLE, AS WELL AS 24 HOUR EMERGENCY CARE
Our Columbus Staff
Dr. Kevin Reilly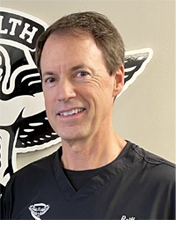 Dr. Kevin Reilly graduated from the University of Houston. He then became a Doctor of Chiropractic in 1991 when he graduated from Southern California University of Health Sciences. He is a board-certified chiropractic sports physician by the American Chiropractic Association. Dr. Reilly has a passion for fitness and sports. He is affiliated with the Council on Sports Injuries and Physical Fitness, among other Chiropractic associations. He is certified by the Titleist Performance Institute to help golfers with their mobility and swing. Dr. Reilly also has experience with various rehabilitative therapy techniques including dry needling.
Dr. Reilly has provided Chiropractic services to thousands of patients including various entertainers passing through Columbus. He has cared for Broadway musical stars, musicians such as Fleetwood Mac, MUSE, and American Idol contestants, and Ohio States athletes.
When he's not at the office, you can find Dr. Reilly on a golf course or cheering on the Ohio State Buckeyes. He is dedicated to a healthy lifestyle and enjoys fitness training and nutritional education.
Dr. Mitchell Bonnstetter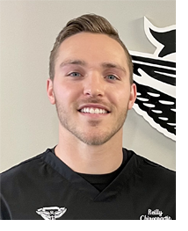 Dr. Mitchell Bonnstetter was born and raised in a small town in Northwest Iowa. He attended Ohio University where he majored in Psychology. During his time as a Bobcat, he punted for the football team. His love for Chiropractic started after a football injury that left him unable to play. He began treatment under Chiropractic care, which led to a full recovery and a lifelong passion for Chiropractic and rehabilitation. Dr. Mitchell pursued his dreams and attended Palmer College of Chiropractic in Davenport, Iowa. While obtaining his chiropractic degree, he also served as a personal trainer to expand his knowledge on health and wellness. After graduation, Dr. Mitchell moved to Columbus, Ohio to start his chiropractic career in 2019. Dr. Mitchell is well versed and has expert training in Structural Rehabilitation with the spine.
Outside of the office, he loves to be outdoors – hiking, fishing, or going on walks with his wife, Hannah and Golden Retriever, Wrigley. He also enjoys researching ways to obtain your optimal body through nutrition and exercise.